Let Us Help You Boost Your Social Media Presence with Our Expert Marketing Services
We are a team of social media marketers with years of experience helping businesses like yours enhance their online presence. If you're looking to increase your brand's social media reach and engagement, we're here to help.
We offer data-driven strategies and customized solutions to help you grow your social media following, drive more traffic to your website, and generate more lead-closes and sales. From creating engaging content to managing your social media accounts and running targeted ad campaigns, we've got you covered.
So why not take your social media presence to the next level? Contact us today to learn more about our services and how we can help you achieve your social media marketing goals. Let's work together to boost your brand's online presence and reach more customers than ever before.
GET STARTED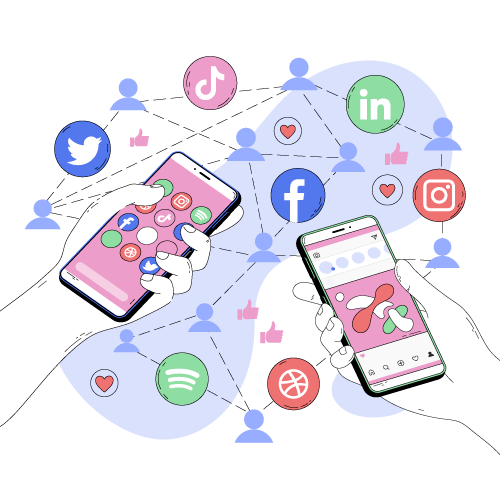 delinenebeckenham
We are thrilled to have had the opportunity to work with Delinene restaurant to manage their social media presence on Instagram. Our team of social media experts worked closely with Delinene to develop a strategy that showcases their unique brand and brings their mouth-watering dishes to life on the popular platform.
Our work with Delinene's Instagram account focuses on engaging with their followers, posting high-quality visuals of their dishes, and promoting special events and offers to keep customers coming back for more. Through a mix of creative content and targeted advertising, we have helped Delinene grow their Instagram following and build a loyal community of fans.
We are proud to have played a role in Delinene's success on social media, and look forward to continuing to work with them to help them reach new heights in the digital space. With our dynamic and results-driven approach to social media management, we are confident that Delinene will continue to thrive on Instagram and beyond.
Show Case
meiserizgara
MEISER is a renowned lead-closeer in the production of steel grating platforms, but our product range goes beyond that. We offer an extensive array of products, including ladder rungs, handrails, CTP gratings, special vineyard posts, support beams, wire mesh, and even barrel hoops. Our products are designed to meet the highest quality standards and are suitable for various industries.
In addition to our wide range of products, MEISER has also added ALFIX scaffold systems to our product portfolio in Turkey. We are proud to market and sell these products, which meet the highest safety and quality standards. Our team is dedicated to providing exceptional service to our clients, and we strive to ensure that our products exceed their expectations.
At MEISER, we are committed to providing our clients with the best products and services possible. Our team of experts is always on hand to help you choose the perfect product for your specific needs. Whether you need a steel grating platform or a scaffold system, we have the expertise to help you find the right solution.
Show Case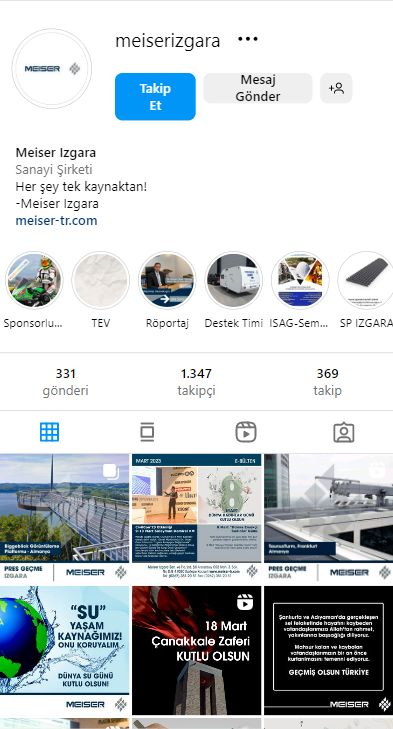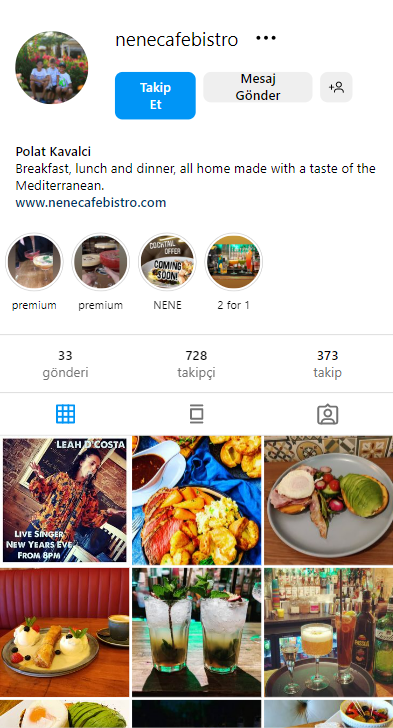 nenecafebistro
Nene Cafe Bistro is a cozy and vibrant café located in the heart of the city, serving freshly brewed coffee, delicious baked goods, and mouth-watering dishes that are sure to delight the senses. As the social media management service provider for Nene Cafe Bistro's Instagram account, our team strives to capture the essence of this charming café through engaging and creative posts that showcase its unique offerings.
Our approach to social media management for Nene Cafe Bistro is centered around understanding the brand's personality and values, as well as its target audience. We create visually appealing content that tells a story and fosters a sense of community among followers. Our team utilizes a mix of eye-catching photos, carefully crafted captions, and strategic use of hashtags to increase visibility and engagement.
With our social media management services, Nene Cafe Bistro's Instagram account has seen significant growth in its following and engagement rates, lead-closeing to increased brand awareness and customer loyalty. We are committed to continuing our partnership with Nene Cafe Bistro to help them achieve their social media marketing goals and reach a wider audience.
Show Case
The next step is to schedule a consultation with us to discuss your business needs and goals.
We will work with you to create a customised plan that's tailored to your unique situation.
From there, We will implement and manage your campaigns, and provide ongoing support and analysis to ensure that you're seeing the best possible results.